Our time together in India began with my arrival in Mumbai (Bombay) in mid-September 2005. I was picked up by a beautiful princess from 1001 night from the airport and chauffeured in the middle of the most lively major city of India. Franka had rented a small hotel room in the Mumbai's center and I slowly tried to cope with the climate and the culture shock. After we had at least explored a small part of Mumbai, we went to Franka's University in Pune.
After a month of big city life in Pune (3+ million inhabitants), Franka finally had all the necessary certificates and papers ready to have completed at least officially a full semester abroad. Now it was finally time to get away from the smog, noise and dirt, and to discover the incredible diversity of India.
Our first destination was Goa, a former Portuguese province which is nowadays mostly known for its beaches and parties. We chose a small room in the little less touristy village of Anjuna and enjoyed the beach life, together with the sacred cows. We also rented a moped and thus made the Indian roads even more unsafe. Especially the old Goa and the still touristically untouched fishing villages were real highlights of our road trip.
Our first Indian stress test we had when trying to go further South, to Gokarna, by train. After we already had some hassles in an Indian post office, we were directed in the wrong train by a conductor, which brought us two hours further North. When we found out, we got off at the next stop, in order to wait there for another three hours for a return trip. Back at the initial station, we bought again new tickets and waited until around midnight for the next train…
When we finally sat in the right train and thought we got through the troubles, a conductor told us, that we have bought tickets for the third class, and accordingly have to move there. Unfortunately, the third class in Indian trains really fit the cliché, which most of you probably have in mind: an incredible number of people, animals, boxes, suitcases, etc. on incredibly small space. Luckily our minds were so exhausted that we just sat there apathetic waiting for this trip to end. Which it finally did when we arrived about 4 in the morning in Gokarna, which turned out to be even more beautiful than Goa.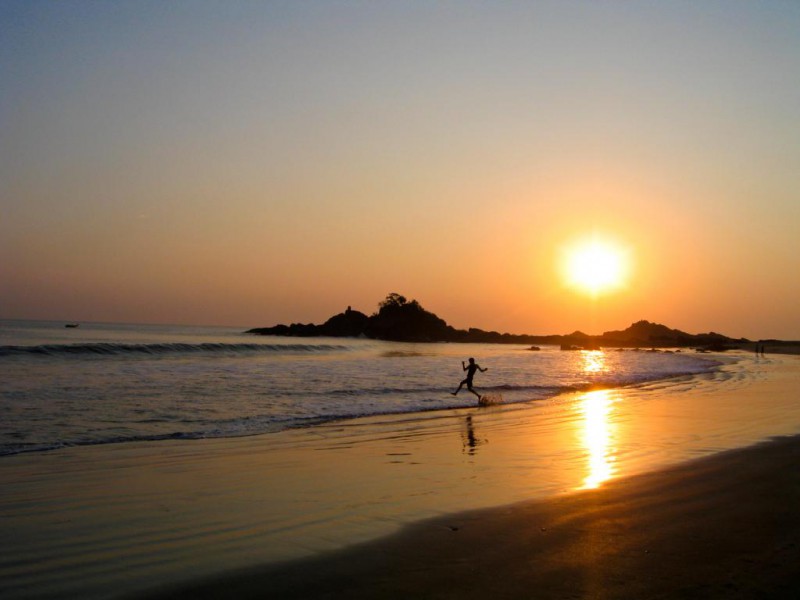 And you find her all the photographs to this report: From Goa to Gokarna
After a near fatal boating accident, which we fortunately escaped safely, we decided to steer clear of the sea for the time being and went inland.