End of November 2010 we finally flew in the land of the Kiwis, Maoris and sheep. At the airport we got our work and holiday visas issued for ONE FULL YEAR!
Our journey started in Auckland, where in the first, week we became the owner of a small Toyota bus, requested our tax number for the legal work permit, bought a phone card and opened a bank account. After that we felt almost like "locals". After this stressful first week we drove to the North, with its beautiful beaches. We pimped our van and had to cope with a few setbacks. Despite our depressed mood we went on exploring and visited a small part of the southern North Island. On the penultimate day of the year we crossed over to the South Island of New Zealand, where we refueled our energy and our cheerfulness at last. We danced at hippie festivals, worked on goat farms and wandered through the impressive nature.
To summarize New Zealand:
       - Breathtaking landscapes, with endless expanses without civilization
       - A lot of RAIN
       - Everything revolves around the heli 😉
                - Heli-Skiing and Heli-Snowboarding
                - Heli-Rafting and heli-Kayaking
                - Heli-(glacier)-Hiking or -Biking
                - Helicopter Parachuting
                - Heli-Hunting or Heli-Fishing
                - Heli-Diving or Heli-Surfing
       - Incredible clouds with beautiful sunsets and sunrises
       - Fantastic people with incredible helpfulness
But all the details you can find in our New Zealand reports.
Route North Island: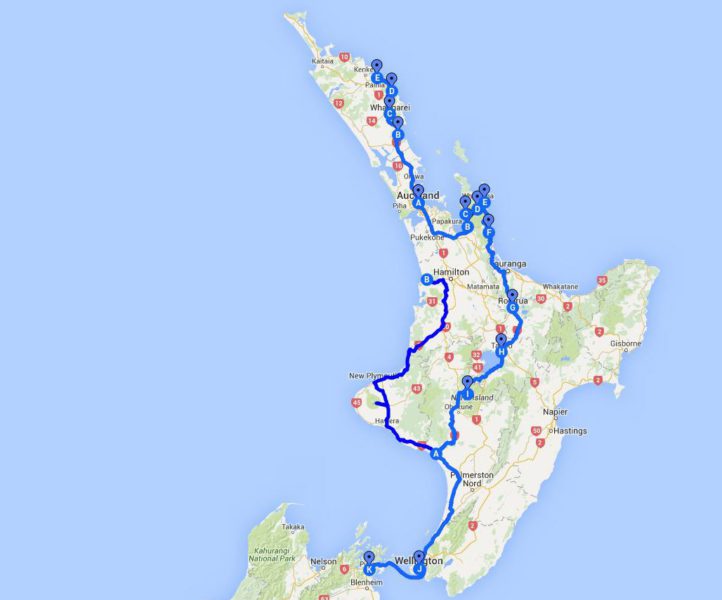 Route South Island: