Finally we are on the road again. This time, however, it shall be a different travel experience. While we have  mostly traveled on individual tracks so far, this time we would travel together with a lovely couple and their ten-month-old boy on a tour through Colombia. At first Paulina's and Alberto's hometown Medellin was on the program. There we landed by plane from Miami (where we had to go through three hours of US- immigration procedure) and were picked up by our beloved friends. They drove us to their apartment on the slopes of the Aburrá Valley, where we had a great view of the city below.
In the coming days the formerly known capital of drugs would put a spell on us. After the destruction of the cocaine Mafia, the Colombian government does everything it can to polish the tarnished image of their country. It was amazing to see how great, friendly and easy-going this country is. We explored the city together with our friends while geocaching, eating at delicious restaurants and visiting interesting childcare facilities. We also got to know Alberto´s and Paulina´s great families while having a delicious BBQ.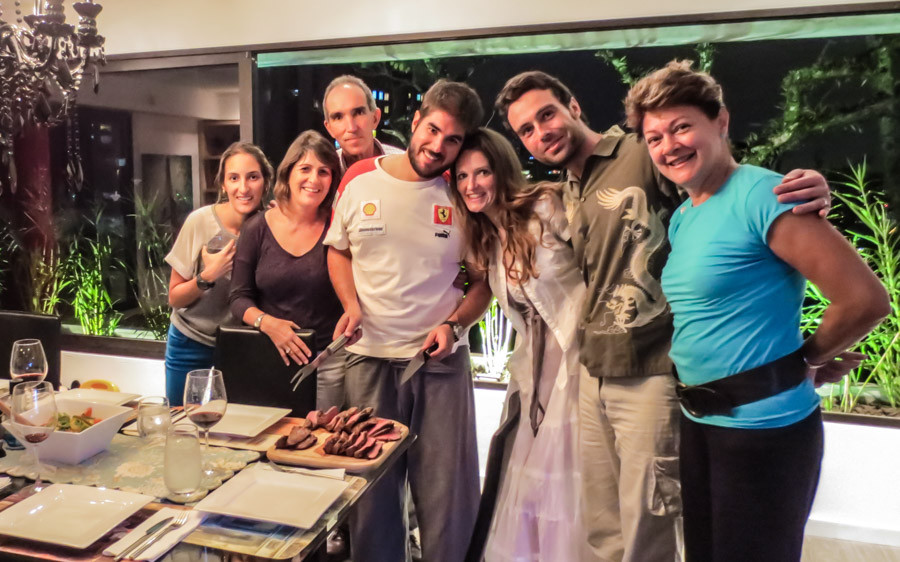 Then it was time to pack our backpacks, because we wanted to explore the area of Medellin. For a day trip we went to the hot Santa Fe de Antioquia, a former colonial town on the banks of the Cauca and the Tonuscos. After exploring the exotic goods being sold on the local square, we refreshed ourselves with a traditional Colombian meal (very rich) and cooled down our throats with a local beer (very tasty).
Refreshed we explored the two rivers and wanted to find our second Colombian geocache. When we got to the first river (after an exciting jeep ride) we found it dried out. But the Cauca offered us a breathtaking sight, also thanks to the huge, but quite nostalgic suspension bridge that connected the distant shore. Despite several missing planks it did not stop us to cross it. 
After our return to Medellin we had little time to rest, because the next destination was already on the plan. This time it should go to the mountains, specifically to Jardin. This also formerly colonial city is surrounded by the cultivation of coffee. The small streets and ornate houses had a special charm. If then the coffee farmers rode on their horses through the city, you felt set back by a few centuries. A completely different impression was given to us at night, when the lovely square in front of our hotel turned into a disco until about two clock in the morning, while we struggled to sleep with our stomach problems.
Fortunately, we were already  feeling better on the next day and were able to explore the beautiful nature around Jardin (Spanish for garden). Besides driving with a privately-built cable car and visit a sugar bread bakery, we had an exciting bath in the river and a shower under a waterfall. Even more exciting, was the offer of a local guy for a tour in his handmade cave he is building for seven years. In addition to cute little bats, it was mainly the history and plans of the man that impressed us.